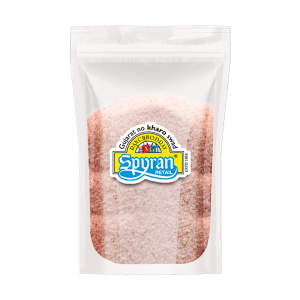 Salt
Sindhav Salt 100 gm
SKU:
62100
Price: ₹ 7
(Inclusive of all taxes)
Actual product pack may be vary from the images shown.
Spyran's Sindhav Salt is a pure and natural salt harvested from the salt pans of Gujarat, India. This salt is known for its unique taste and health benefits and is a popular choice among health-conscious individuals and chefs around the world.
Sindhav Salt is harvested using traditional methods that have been passed down for generations. The salt pans are filled with seawater, which is then evaporated by the heat of the sun, leaving behind pure and natural salt crystals. These crystals are then hand-harvested and carefully packed to preserve their purity and freshness.
Sindhav Salt has a unique flavour that is different from other types of salt. It has a slightly sweet taste with a hint of mineral flavour, making it perfect for use in a variety of dishes. Sindhav Salt is also a rich source of minerals, including calcium, magnesium, and potassium, which are essential for maintaining good health.
Whether you're a chef looking for a unique and flavourful salt to use in your dishes or a health-conscious individual looking for a natural and healthy alternative to regular salt, Spyran's Sindhav Salt is a perfect choice. So, try this pure and natural salt today and experience the unique and authentic taste that only Spyran can offer.
Pack Sizes:
100 gm , 250 gm , 500 gm , 1 kg