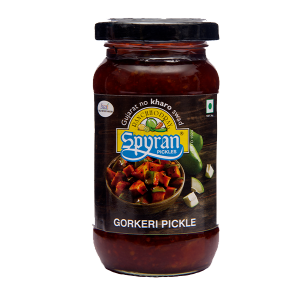 Pickle
Spyran Godkeri Pickle 250 gm
SKU:
8906018562399
Price: ₹ 97
(Inclusive of all taxes)
Actual product pack may be vary from the images shown.
Spyran's Godkeri Pickle is a mouthwatering and authentic Indian pickle made from fresh and juicy raw mangoes and a blend of aromatic spices. This pickle is a popular favourite in India and is enjoyed with meals or as a tangy snack.
Spyran's Godkeri Pickle is made from high-quality raw mangoes that are cut into small pieces and mixed with a blend of spices, including mustard seeds, fennel seeds, and red chilli powder. The mixture is then cooked slowly to create a sweet and tangy pickle that is perfect for adding to sandwiches, parathas, and other dishes.
Spyran's Godkeri Pickle is free from additives, preservatives, and artificial colours, making it a healthy and safe choice for you and your family. It is also gluten-free and suitable for vegans and vegetarians.
Whether you're looking to add some flavour to your sandwiches or want to enjoy an authentic Indian pickle with your meal, Spyran's Godkeri Pickle is a perfect choice. So, try this delicious and flavourful pickle today and experience the unique and authentic taste that only Spyran can offer.
Pack Sizes:
250 gm , 450 gm