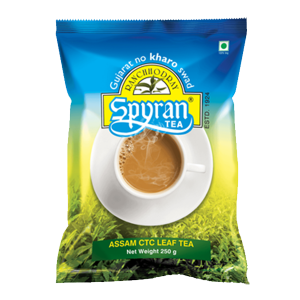 Tea
Spyran Tea 100 gm
SKU:
8906018562405
Price: ₹ 41
(Inclusive of all taxes)
Actual product pack may be vary from the images shown.
Spyran Tea is a premium quality, loose-leaf tea made from the finest tea leaves grown in India. This tea is carefully selected and blended to create a unique and authentic flavour that is loved by tea enthusiasts around the world.
Spyran Tea is made using a blend of high-quality tea leaves that are handpicked and carefully processed to retain their natural flavour and aroma. The tea is then packed in airtight containers to preserve its freshness and flavour.
Spyran Tea has a rich and full-bodied flavour with a smooth and refreshing taste. It is perfect for enjoying on its own or with a splash of milk and sugar. The tea is also a great source of antioxidants and other beneficial compounds that can help improve your overall health.
Whether you're a tea enthusiast or just looking for a delicious and healthy beverage to enjoy, Spyran Tea is the perfect choice. So, try this premium quality tea today and experience the unique and authentic taste that only Spyran can offer.
Pack Sizes:
100 gm , 250 gm , 500 gm