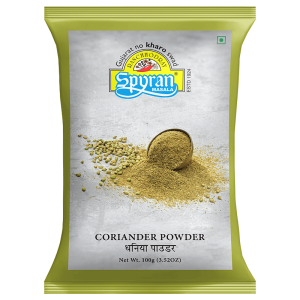 Powdered Spices
Dhaniya Powder 100 gm
SKU:
8906018560258
Price: ₹ 34
(Inclusive of all taxes)
Actual product pack may be vary from the images shown.
Spyran's Dhaniya Powder is a premium-quality spice made from the dried seeds of the coriander plant. Coriander seeds are an essential ingredient in Indian cuisine, known for their mild, slightly sweet flavour and earthy aroma. Spyran's Dhaniya Powder is made from high-quality coriander seeds that are carefully selected, dried, and ground to create a fine powder that is perfect for adding to a variety of dishes.
Coriander seeds have been used in Indian cooking for centuries, prized for their ability to add flavour and depth to curries, stews, and other dishes. Spyran's Dhaniya Powder is a versatile spice that can be used in a variety of recipes, from traditional Indian dishes to international cuisines.
Spyran's Dhaniya Powder is free from additives, preservatives, and artificial colours, making it a healthy and safe choice for you and your family. It is also gluten-free and suitable for vegans and vegetarians.
Whether you're a home cook or a professional chef, Spyran's Dhaniya Powder is an essential ingredient that will help you create delicious and authentic Indian dishes with a unique and rich flavour. So, add a pinch of this flavourful spice to your recipe and experience the unique and authentic taste that only Spyran can offer.
Pack Sizes:
100 gm , 200 gm , 500 gm