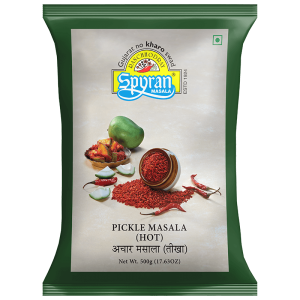 Masala
Pickle Masala Hot 200 gm
SKU:
8906018562610
Price: ₹ 80
(Inclusive of all taxes)
Actual product pack may be vary from the images shown.
Spyran's Pickle Masala Hot is a premium-quality blend of spices that is specifically designed to make delicious and spicy Indian pickles. This traditional spice mix is made from high-quality ingredients that are carefully sourced and expertly blended to create a unique and flavourful seasoning.
This Pickle Masala Hot is made from a blend of aromatic spices including mustard seeds, fenugreek, cumin, red chillies, and other hot spices, which are carefully roasted and ground to create a rich and spicy seasoning. This spice mix is perfect for making a variety of Indian pickles including mango, lime, and chilli pickles with an added fiery kick.
Spyran's Pickle Masala Hot is free from additives, preservatives, and artificial colours, making it a healthy and safe choice for you and your family. It is also gluten-free and suitable for vegans and vegetarians.
Whether you're a fan of spicy food or just looking to add some heat to your pickle recipe, Spyran's Pickle Masala Hot is an essential ingredient that will help you make delicious and authentic Indian pickles with a spicy twist. So, add a pinch of this flavourful spice mix to your pickle recipe and experience the rich and flavourful taste with an added kick of spice that only Spyran can offer.
Pack Sizes:
200 gm , 500 gm